Water Treatment Expertise for Ammonia Facilities
Water treatment is a core component of a successfully run ammonia production facility. Cooling, boiler, and steam systems at ammonia facilities need to run at peak efficiency to maintain production standards.
ChemTreat's experienced team works closely with our ammonia customers to understand their water treatment needs and help them implement programs to improve operational efficiency, protect critical assets, reduce costs, and meet environmental goals.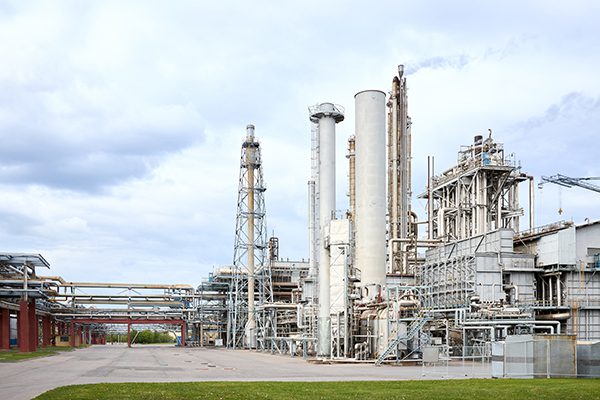 AMMONIA PLANT SAVES $2.5 MILLION ANNUALLY BY INCREASING RECYCLED WATER USAGE WITH CHEMTREAT SOLUTIONS
Utility Water Treatment
Our highly experienced application experts and local water treatment specialists can provide a wide array of treatment solutions for your utility systems.
Boiler & Steam System Treatment
ChemTreat offers a full line of boiler water treatment chemicals, testing, and control equipment. Our programs can help you increase system efficiency, decrease plant downtime and maintenance costs, and extend equipment life.
Cooling System Treatment
Our cooling treatment programs start with an assessment of your process, water chemistry, cooling requirements, and cooling system metallurgy. This allows us to understand your system needs and develop a custom program to help you reduce corrosion, scale, and/or fouling issues.
Applying our products can help you keep your system running at peak efficiency, extend equipment life and reduce water usage.
We also offer state-of-the-art control and water monitoring technology with DCS compatibility to help increase reliability and decrease costs.
FlexPro®: A Breakthrough Innovation for Cooling System Treatment
ChemTreat's FlexPro product line includes a wide range of treatment options for corrosive, scaling, and reclaim waters. Many FlexPro products do not contain phosphates or zinc, helping facilities meet environmental goals while improving the efficiency of their cooling systems.
Benefits of FlexPro over industry-standard phosphate scale and corrosion inhibitor programs include:
Excellent corrosion protection
Exceptional fouling and scaling control with non-phosphorus antiscalants
Fluorescent tracing for automatic feed and precise control
Phosphorus-free and zinc-free options available to help you meet environmental goals
Enhanced reliability thanks to extended turnaround times
Increased throughput and improved efficiency
Improved biological control that requires less chlorine
Simplified startup and passivation
Reduced calcium phosphate and zinc deposition
UAN and AN Corrosion Inhibition with FlexFilm™
Urea ammonium nitrate (UAN) and ammonium nitrate (AN) are highly corrosive liquid fertilizer products. Corrosion of mild steel equipment used for processing, transporting, and storing UAN/AN solution can be extensive.
Treating UAN and AN corrosion with the right inhibitor can help ammonia plants avoid unscheduled plant shutdowns, preserve assets such as storage tanks and rail cars, and meet environmental goals.
ChemTreat's FlexFilm series of products provides excellent corrosion inhibition for mild steel under various operating conditions. These products are a synergistic combination of surface-active agents and organic acids for corrosion protection. As can be seen from the data below, FlexFilm products are shown to provide superior corrosion inhibition in the liquid phase and in the liquid/vapor interphase.

Commitment to ESG
Our industry experts support the environmental initiatives of our ammonia industry customers.
Our ingenuity and applications expertise can assist in the following areas:
Increasing cycles of concentration to minimize blowdown in cooling towers and boilers
Improving heat transfer across heat exchangers to reduce fan energy and cooling water usage
Applying reverse osmosis antiscalants to increase recovery rates, reduce concentrate flows and energy, and extend asset life
Providing consultation and treatment programs for water reuse projects
Running cooling towers at higher pH to reduce acid usage and CO2 emissions
ChemTreat is committed to developing new technologies and services to help your facility meet its environmental goals.
Intelligent Water Management
Our CTVista®+ intelligent water management platform enables monitoring and control of your water treatment programs by providing data management, analytics, reporting, and real-time guidance.
This cloud-based software helps our customers make real-time, data-driven decisions to:
Protect system assets
Minimize water, chemical, and energy costs
Meet sustainability goals
CTVista+ combines the collective wisdom of experienced water treatment professionals with real-time data to optimize the effectiveness of the chemical treatment program at your ammonia facility.
Compatible with most industry-standard equipment setups, CTVista+ is easy to integrate with your existing equipment. Our team can also work with you to create and install a custom equipment package best-suited to your facility's needs.
Trust ChemTreat For Ammonia Facility Water Treatment
Our experts at ChemTreat can help you develop a custom water treatment program for your ammonia facility. Our water treatment solutions and monitoring software helps facilities and plants like yours improve production efficiency, reduce operating costs, and easily integrate water treatment into your ESG initiatives. Contact ChemTreat today to request a consultation with your local representative!