The Problem
A large brewery in the western US set up a brand-new ammonia cooling process at their facility. The ChemTreat team implemented CTVista+ water management software to connect data inputs from ChemTreat controllers across the brewery's eight evaporative condensers and a cooling tower to monitor inhibitor feed, conductivity, pH, temperature, and flow. The controllers send alarms to the local ChemTreat team via our CTVista+ software whenever monitored parameters are out of range.
On a Saturday evening, the ChemTreat representative received an alarm from the CTVista+ software, alerting a sudden temperature spike from the usual 65°F to 95°F in all eight condensers.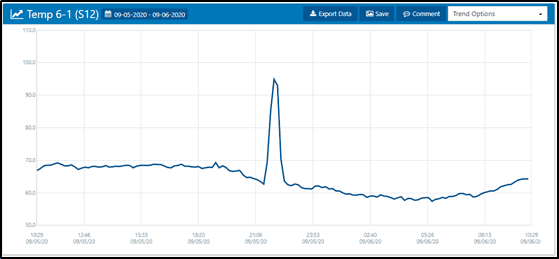 Trend chart showing the temperature spike on one of eight condensers
The Solution
The ChemTreat representative immediately informed facility management of the temperature increase. Although on-site staff had detected the issue independently of the alarm, because this was a brand-new ammonia cooling process, the communication process had not been well-defined.
Plant staff explained that communication had been lost with one of the evaporative condensers because a communications breaker had been tripped.
Thanks to the controller alarms and CTVista+ data collection, ChemTreat was able to keep management informed so the customer could quickly determine a course of action.
The Results
The communications breaker was increased from 1.0 to 3.0 amperes to resolve the issue.
This problem could have caused a plant shutdown if it was not spotted and resolved quickly. Thanks to the alert the ChemTreat team received from CTVista+, facility management was made aware of the problem and able to troubleshoot and put preventative measures in place.
Results are examples only. They are not guaranteed. Actual results may vary.
Features such as 24/7 surveillance and alarming may come at additional cost and may not be available at all sites.