ChemTreat is a leading supplier of specialty chemicals in North and South America. Our goal is to provide you with the best service through our extensive product and industry knowledge and local expertise. Our deep investment in research and development results in unique chemistries that provide significant value to terminal owners and operators relative to lowering costs, improving safety, and protecting assets. Our field engineers typically have over 15 years of experience in product application and are backed by the highest technical expert to field engineer ratio in the industry. Read the case study to learn more:
Pipelines, Transfer Lines, and Storage Tanks
We provide unique and revolutionary treatment solutions for terminal pipelines, transfer lines, and storage tanks. Our programs help protect assets, meet vapor space requirements, and lower total cost of operations.
Corrosion and Microbiological Protection of Bilge, Transfer, and Internal Lines
Pigging and continuous injections for internal pipelines for the mitigation of corrosion and microbiological growth.
Sentinel™ advanced corrosion protection for terminal assets
Hydrogen Sulfide (H2S) Vapor Space Requirements
ChemTreat offers Industry-standard and novel approaches to hydrogen sulfide treatment.
Traditional industry approaches:
Organic bases (typically triazine)
Inorganic bases (NaOh, KOH, blends)
Catalyst PT3165, a new approach for oil sweetening:
Lowers oil sweetening dosage and cost vs. triazine
Not a triazine (non-formaldehyde-based)
No re-emergence of H2S after 48 hours­­ in laboratory tests
Stream-dependent versus H2S-dependent treatment
Treats H2S over 100,000 ppm measured in the vapor phase (measured up to 200,000 ppm)
Does not precipitate in field tests under normal conditions
Treated cost-per-treated-barrel significantly less than traditional industry approaches
Asphaltene/Paraffin: Tank Bottom Mitigation for Cleaning and Viscosity Reduction for Transfer
We offer solvent, inhibitor, and converter treatment options.
ChemTreat can help lower costs of tank cleaning through the application of our asphaltene paraffin converter FL5478, which reduces viscosity for pumping while thoroughly cleaning storage tank bottoms.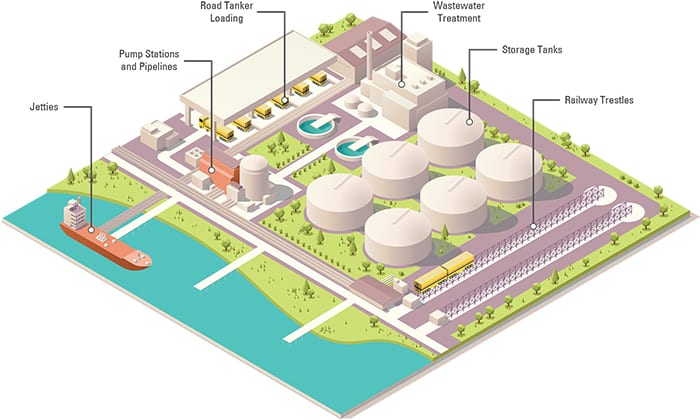 Sentinel™ Corrosion Inhibitor Technology
Sentinel™ is our proprietary, patent-pending corrosion inhibitor technology for pigging or continuous injections for internal pipelines. With Sentinel, we bridged the gap between traditional corrosion inhibitors and new technology, providing a stronger, longer-lasting protecting film on metal surfaces.
This treatment solution outperforms standard corrosion inhibitors used in terminals and helps maximize asset protection.
Advantages of the Sentinel Program
Will not help stabilize emulsions, unlike most amine-based corrosion inhibitors
Calcium- and brine-tolerant
May help break emulsions in many instances
Unbeatable cost/performance
Utility Treatment Programs
ChemTreat has over 50 years of industrial water treatment experience. In addition to our innovative oil and gas treatment programs, we help our terminal customers with all aspects of water treatment.
Heating/cooling exchange with water or process streams
Specialized chemistries for water reuse and blowdown reduction
On-line and off-line heat exchanger cleaning and passivation technology
High-stress corrosion and deposit control programs
Chlorine dioxide and other chlorine gas alternatives
Oil-water separation
Coagulants
Flocculants
Pretreatment optimization
Scale inhibitors and sludge dispersants
Chemical treatment specifications
Steam purity studies
Condensate return evaluation
Failure analysis
Fuel conservation studies
Automation and Control