STATE-OF-THE-ART WATER TREATMENT RESEARCH AND DEVELOPMENT
ChemTreat continually develops new technologies and solutions that enable our customers to operate their systems at peak efficiency and reliability. Our laboratories are staffed with the most qualified and dedicated water analysis personnel, committed to solving your problems quickly.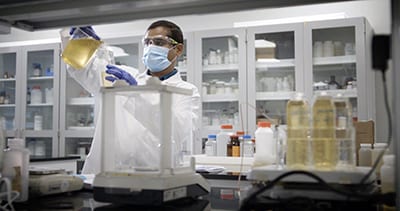 ADVANCED RESEARCH & DEVELOPMENT
ChemTreat maintains a state-of-the-art water treatment research and development laboratory located in our Ashland, Virginia facility. The R&D laboratory is staffed with full-time PhDs and other scientists and technologists.
Our simulation and testing capabilities include:
Fully-automated evaporative pilot cooling towers
Research boilers
Solid-liquid separation simulators for wastewater research
Retort cookers
Laboratory pasteurizers

CUSTOM ANALYTICAL SOLUTIONS
In addition to research and development, ChemTreat maintains an analytical laboratory, equipped with a full range of modern analytical and test equipment to support a wide array of specialized testing needs, including:
Eight-channel liquid particle counter
Chromatography capabilities, including ion chromatography (IC) and gas chromatography (GC)
Metals analysis including inductively-coupled plasma (ICP)
Mass spectrometry (ICP-MS) and atomic absorption spectroscopy (AAS)
Mercury analysis by cold vapor atomic fluorescence (CVAF)
Inorganic deposit analysis by x-ray fluorescence (XRF)
Organic classifications by Fourier transform infrared spectroscopy (FTIR)
Total organic carbon analyzer using UV-persulfate oxidation
Scanning electron microscope
New Product Development
New product development is a key factor in the ChemTreat success story. Our research and development group is composed of some of the most innovative and focused minds in water treatment product development, leading to the creation of 1,200 proprietary product formulations.
DEVELOPING FOR THE FUTURE
Our proprietary product formulations are carefully selected and incorporated into your plant or operation by our field engineers who have the most experience providing water treatment services in the industry.
A critical component in our new product development process is the feedback we receive from our customers. We encourage our field engineers to remain in their territory for the duration of their careers, leading to deep, long-term relationships with our customers. Through these relationships, we receive the very best feedback from the field regarding operational performance and the latest operating requirements, allowing us to create even better solutions.
Our solutions include:
TITAN360™
TITAN360 is a mixture of neutralizing amines, an organic corrosion inhibitor, and a dispersant, effectively treating the water-steam cycle without multiple chemical feed points. With a simple test kit, applying TITAN360 provides peace of mind that the proper treatment level is maintained. TITAN360 is a low-toxicity, easy-to-apply alternative to the traditional multi-chemical boiler treatment program. See our infographic to learn more.
FlexPro®
FlexPro is a breakthrough innovation in cooling water treatment specifically designed to work on a broad range of cooling systems. This product line includes phosphorus-free and zinc-free technology (as well as low-phosphorus and low-zinc options) for corrosive, scaling, and reclaim waters.
QuatKill®
ChemTreat's QuatKill is an innovative Colorimetric test kit that measures free quat concentration in wastewater treatment systems, delivering fast results over a wide concentration range. QuatKill provides a method to quickly and accurately measure quat concentrations, and when used with our product QK1000, provides a solution to neutralize quaternary ammonium compounds. Check out this blog post for more information.
Analytical Solutions Laboratory
To maintain the highest levels of customer service, ChemTreat operates a state-of-the-art analytical laboratory that supports field testing, troubleshoots complex problems, and creates new solutions for your application.
TAILORED TREATMENT FOR YOUR SYSTEM
Our laboratory is staffed with dedicated water analysis personnel, allowing ChemTreat to maintain the fastest average analytical turnaround time in the industry. With over 50 years of experience, we have a deep understanding of the problems found in influent, effluent, process, cooling tower, and boiler water treatment. We also provide our customers with certificates of analysis for various types of sampling, including water, microbiological, deposit, and corrosion coupons.
Analytical Instrumentation Capabilities
Eight-channel liquid particle counter
Chromatography capabilities including ion chromatography (IC) and gas chromatography (GC)
Metals analysis including inductively-coupled plasma (ICP), inductively-coupled plasma
Mass spectrometry (ICP-MS), atomic absorption spectroscopy (AAS)
Mercury analysis by cold vapor atomic fluorescence (CVAF)
Inorganic deposit analysis by x-ray fluorescence (XRF)
Organic classifications by Fourier transform infrared spectroscopy (FTIR)
Total organic carbon analyzer using UV-persulfate oxidation