Developing partnerships, delivering peace of mind
Global experts in industrial water treatment and process optimization, providing customized solutions to maximize efficiency and savings.
[
CHOOSE AN INDUSTRY TO LEARN MORE
]
Chemical Processing

Commercial Facilities

Food & Beverage

General Manufacturing

Mining

Oil & Gas

Power Producers

Primary Metals

Pulp & Paper

Transportation
Trusted Partners — Proven Results
Our field service engineers average over 16 years of experience — double the industry average. We hire the most experienced and talented field personnel available and enable them to develop long-term relationships with customers. Backed by specialized industry and application experts, they deliver customized programs to maximize efficiency and savings.
Deep Industry Expertise
There is no substitute for knowing an industry inside and out. We believe that deep, industry-specific expertise is central to providing value for our customers. As a result, we have assembled a team of seasoned industry specialists who continually develop knowledge, technologies, and capabilities to address the unique challenges facing our customers in every industry.
Customized Programs for Unique Systems
ChemTreat's service engineers are supported by a corporate technical engineering staff. With almost 20 years of experience on average – our team has solved your problem before. They provide support with chemical and technical engineering, complex problem solving, and customized product & service selection based on system engineering specifications and performance requirements.
Invested in Your Success
When customers choose ChemTreat, we understand that what they're really investing in is the unparalleled service and relationship that our people provide. We aim to create value and lasting partnerships by aligning the entire organization around the common goal of making our customers more successful.




Our Applications
The ChemTreat difference lies in the application of our advanced technologies and the partnerships we form with our customers.
Over the past 50 years, we've developed a complete line of efficient, safe, and sustainable industrial water treatment services designed to ensure our water treatment programs are saving customers money, improving operating efficiency, extending asset life, and reducing plant downtime.
FEATURED
News & Upcoming Events
See what's new with ChemTreat.
To learn more about our water treatment capabilities for the Food and Beverage industry, click… Read more »
Ashland, Virginia – (April 8, 2019) – On Monday, April 15 at 9 a.m., ChemTreat,… Read more »
To learn more about how ChemTreat can help Food and Beverage customers with their water… Read more »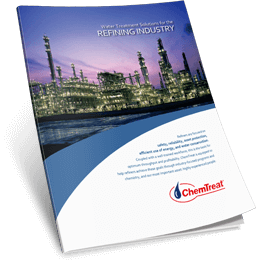 FEATURED RESOURCE
Water Treatment Solutions for the Refining Industry
Refiners are focused on safety, reliability, asset protection, efficient energy use,
and water conservation. Download this guide to see how ChemTreat can help.
CONTACT US
Our sales engineers are ready to help you find the right solution. Fill out the form to connect with your local ChemTreat representative.
Current Customers
If you are a current customer and need direct assistance, please contact Customer Service by phone or e-mail
Monday through Friday, 8 am to 7 pm EST.
E-mail: cs_orders@chemtreat.com    Phone: 1 (800) 648-4579