The Problem
A medical center was using manual adjustments for conductivity control after an old controller failed, causing them to over- or under-cycle their boilers. They needed to increase control to preserve and maintain their boiler assets, increase cycles of concentration, and achieve their water savings goals.
The Solution
ChemTreat helped the facility install a boiler controller and connected it to their CTVista+ software to increase boiler conductivity control and cycles of concentration. CTVista+ provided real-time monitoring of the boiler system.
The Results
With the new boiler controller and CTVista+ setup, the customer was able to:
Increase boiler conductivity control from 40 to 70%
Increase cycles of concentration by 60%
Calculated saving from this project:
364,307 gallons per year in water
1,102 MMBtu per year in fuel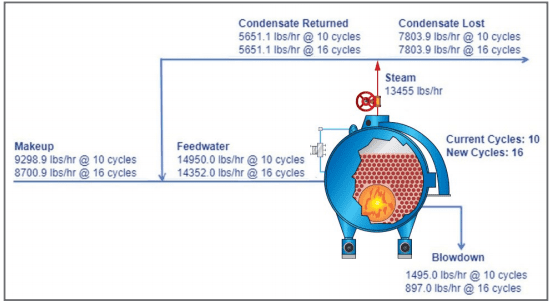 This firetube boiler mass balance diagram, generated within CTVista+, shows the water savings associated with increasing cycles of concentration from 10 to 16.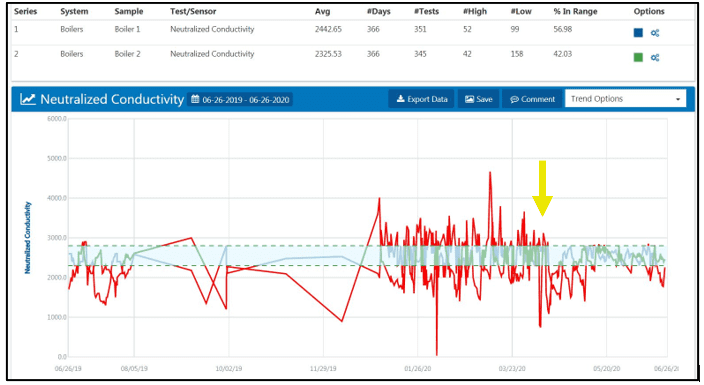 Neutralized conductivity trend chart generated by CTVista+ to monitor performance. The green spectrum indicates the range of desired conductivity. The yellow arrow indicates when the new controller was installed.
Want to learn more about CTVista+ and intelligent industrial water management? Click here.
Results are examples only. They are not guaranteed. Actual results may vary.