The Problem
A major hospital system on the East Coast runs a 2,400-ton chiller as part of its cooling system. The chiller water was treated with conventional solid technology, which lacked the capability to monitor and control chemical feed and manage inventory.
As part of their Water Safety Management program, the customer was looking for a way to control the dosing of solid oxidizing biocide to maintain optimum biocontrol in their cooling system.
The Solution
ChemTreat collaborated with Dober to install the second generation of Smart Release (SRG2) solid cooling treatment technology at the customer site.
An SRG2 skid with three solid product feeders was installed, along with an automation panel for control and monitoring. The panel has the capability to track key performance indicators such as conductivity, PTSA, pH, and ORP.
SRG2 skid installed at the customer site, including enhanced automation and control for product dosing capability
Additionally, a fourth feeder was included in the skid for supplementing azole-based corrosion inhibitor. An ORP probe-based biocide dosing capability was provided to meet the customer's treatment needs.
A fourth feeder was installed in the skid to supplement the azole-based corrosion inhibitor
The Results
KPI trends were collected and shared through daily CTVista®+ reports, and bi-weekly water sampling analyses reports were tracked for performance tracking purposes.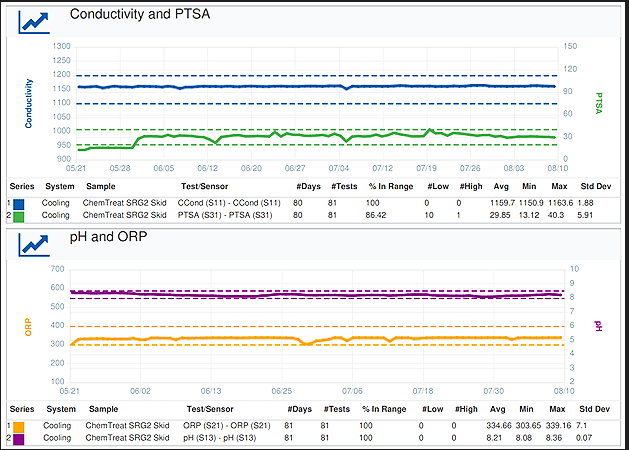 Cooling system trends from the customer's daily summary report generated in CTVista+
The installation of the SRG2 skid helped control the product dosing through PTSA. The ORP-based biocide dosing showed good microbiological control in the cooling water.
This new solid cooling treatment technology allowed the customer to control product dosage more precisely, successfully reducing microbiological fouling.
Download the Case Study
Results are examples only. They are not guaranteed. Actual results may vary.