The Problem
A large alumina-producing plant in Brazil experienced constant problems with heat exchange efficiency in their interstage cooling operation, limiting alumina production and, consequently, refinery yield.
This plant uses process condensate as makeup for the precipitation process of the interstage cooling system. The condensate is highly contaminated with aluminum and hydrate
(>30 ppm Al+3), causing the formation of a thick deposit layer, reducing heat exchange efficiency. The contaminants in the recirculation water directly impact the thermal efficiency of the cooling towers, which results in Interstage Cooler (ISC) fouling and influences ISC availability and negatively impacts the total cost of operations at this plant.
The Solution
ChemTreat performed a dispersion study (screening test) in our laboratory to test the efficacy of our FlexPro® CL5644 and CL1360 products, which contain no phosphate, over the previous phosphate-based treatment used by the plant.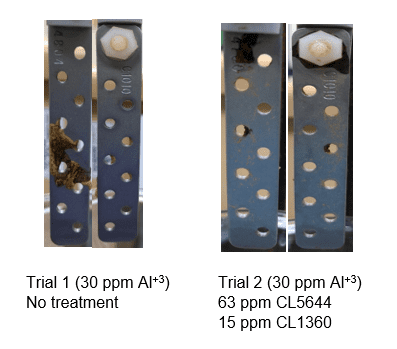 The Results
After the success of the screening tests, CL5644 and CL1360 treatment was applied on the plant's ISCs.
Six months after beginning the new treatment, the plant experienced the following benefits:
Improved plant availability
ISC output temperature increased by 2°C
20% reduction in ISC cleanings
28% reduction in cooling tower blowdown
Results are examples only. They are not guaranteed. Actual results may vary.