Ethanol producers require effective water treatment to help them reduce costs, protect assets, and maintain reliable operations. ChemTreat offers best-in-class treatment solutions for utilities, evaporators, and both front-end (fermentation) and back-end (distillation) processes.
Our field engineers take great pride in the success of their ethanol customers. We work tirelessly to design water treatment programs that help you improve operating efficiency and reduce plant downtime.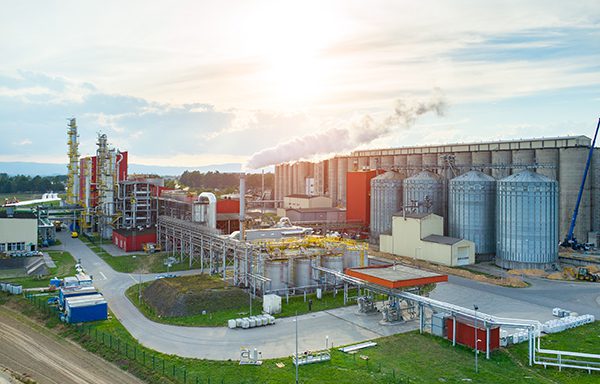 REDUCING CORROSION WITH FLUORESCENT-TRACED FILM-FORMING AMINE PROGRAM AT AN ETHANOL PLANT
Utility Water Treatment
Our highly experienced application experts and local water treatment specialists can provide a wide array of water treatment solutions for your utility systems.
Boiler Treatment
ChemTreat offers a full line of boiler water treatment chemicals, testing, and control equipment. Our programs can help you increase system efficiency, decrease plant downtime and maintenance costs, and extend equipment life.
Cooling Treatment
Our FlexPro® technology offers a breakthrough innovation in cooling system treatment.
Benefits of FlexPro over industry-standard phosphate scale and corrosion inhibitor programs include:
Excellent corrosion protection
Exceptional fouling and scaling control with non-phosphorus antiscalants
Fluorescent tracing for automatic feed and precise control
Phosphorus-free and zinc-free options available to help you meet environmental goals
Enhanced reliability thanks to extended turnaround times
Increased throughput and improved efficiency
Improved biological control that requires less chlorine
Simplified startup and passivation
Reduced calcium phosphate and zinc deposition
Reverse Osmosis Treatment
A well-designed pretreatment system and chemical program is an important component of an effective RO system. This includes maintaining an acceptable SDI, selecting the best antiscalant, and implementing a normalization trending program to keep the RO system on-line and functioning properly.
ChemTreat pretreatment experts can design a full chemical treatment and monitoring program customized to your specific needs. They can review design metrics around the RO and any upstream filtration and work with you to improve the overall efficiency of your pretreatment system.
Evaporator Antiscalants
ChemTreat offers a full line of evaporator antiscalants. The breadth of our product line, along with our state-of-the-art laboratory capabilities, allows us to create a program customized for the foulants specific to your plant.
Fermentation and Distillation Cleaning
ChemTreat's FlexClean™ is an ethanol clean-in-place (CIP) replacement chemistry that treats fermenters, mash trains, yeast propagation, evaporators, beer columns, reboilers, and corn oil separation systems.
A broad-spectrum cleaning product effective for scale and organic treatment, FlexClean offers the following benefits over industry-standard CIP programs:
Provides effective mineral scale and organics removal
Reduces yeast stress to improve fermentation
Contains less sodium
Requires only minor modifications to your existing CIP process
Reduces CIP costs without compromising performance
FlexClean offers advantages for every step of your CIP process:
Fermentation
Cleaner fermenters result in lower yeast stress, less glycerol, and more ethanol produced
Mash Trains
Increases run times and heat transfer
Yeast Propagation
Reduces risk of contamination and fermentation infections
Reboilers
Reduces downtime and increases run times between CIPs
Evaporators
Increases run times, decreases downtime and pressure, resulting in a reduction of steam needed
Corn Oil Separation
Reduces vibrations and extends time between costly rebuilds
Intelligent Water Management
Our CTVista®+ intelligent water management platform enables monitoring and control of your water treatment programs by providing data management, analytics, reporting, and real-time guidance.
This cloud-based software helps our customers make real-time, data-driven decisions to:
Protect system assets
Minimize water, chemical, and energy costs
Meet sustainability goals
CTVista+ combines the collective wisdom of experienced water treatment professionals with real-time data to optimize the effectiveness of the chemical treatment program at your ethanol facility.
Compatible with most industry-standard equipment setups, CTVista+ is easy to integrate with your existing equipment. Our team can also work with you to create and install a custom equipment package best-suited to your facility's needs.
Contact ChemTreat Today
ChemTreat can help you improve the efficiency of your ethanol production facility with best-in-class water treatment programs. We create custom chemical treatment programs to provide solutions for your facility's unique needs. Contact our experts today to request a consultation.